The Alberta Legislature is adjourned for a month.
For this we are truly grateful because no matter how Jason Kenney tries to dress up his performance—he says he's well on his way to delivering on almost 70% of his campaign promises—he has not delivered on the promise of "jobs, economy, pipelines."
And no, making a risky $1.5 billion equity investment and providing a $6 billion loan guarantee on the American segment of the KXL pipeline does not count.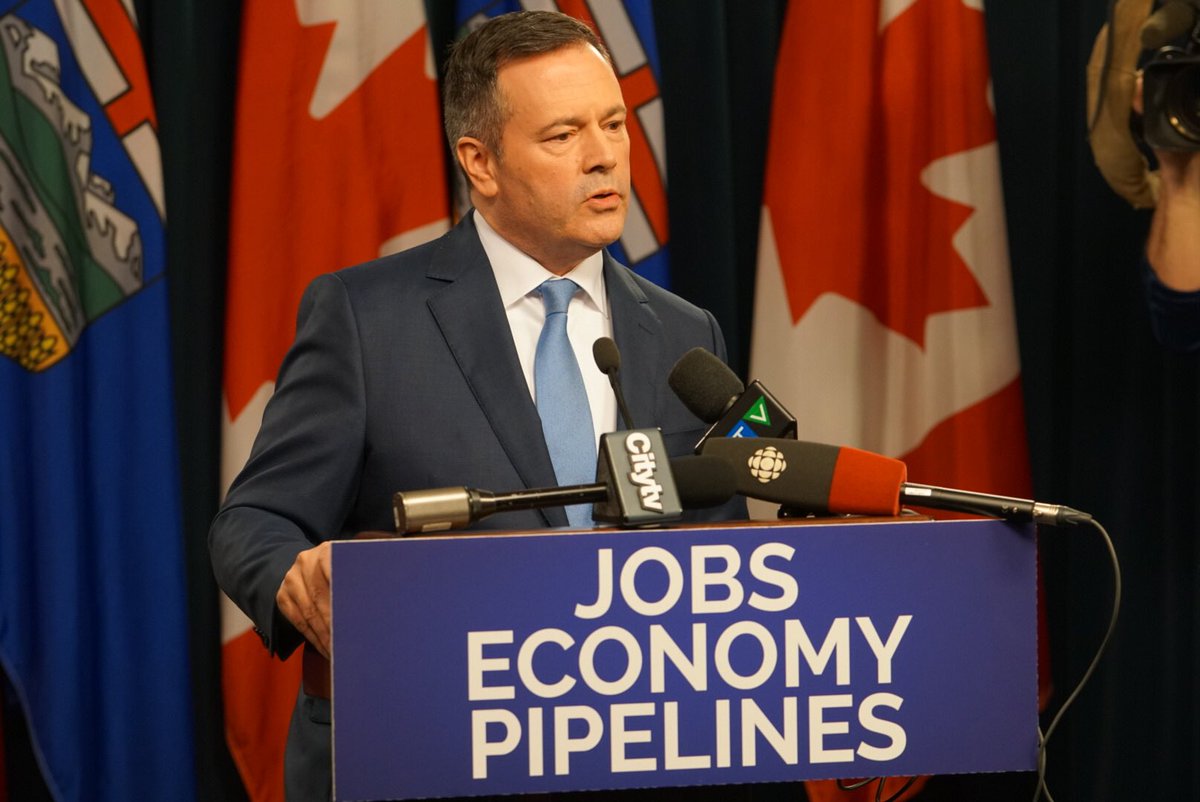 Kenney's campaign promises went up in smoke because he missed the memo, the one that said major oil companies want to own only the cheapest, cleanest reserves.
Case in point.
Last week Total, a global energy company, announced it was taking a $9.3 billion asset impairment charge on its Canadian oilsands assets because (1) the oilsands are high cost investments in a low price environment and (2) they meet the definition of "stranded" assets under Total's commitment to become a net-zero emissions company by 2050 or sooner.
Total's announcement comes on the heels of similar announcements by BP and Royal Dutch Shell which wrote down $17.5B and $22B respectively.*
It dovetails with the long string of announcements by investment banks like Deutsche Bank which pledged to align their credit and investment portfolios with the goals of the Paris Agreement in order to achieve climate neutrality by 2050.
Net-zero emissions by 2050. Sense a pattern here?
Hypocritical?
Rather than reverse its plan to deregulate the energy sector as much as possible under the guise of cutting red tape (and instead introduce legislation that aligns with the goal of net-zero emissions by 2050) the Kenney government reverted to form: it had a temper tantrum.
Kenney's energy minister, Sonya Savage, blasted Total's "highly-hypocritical decision," saying Total had dismissed "the leadership of Canadian producers who are doing their part with active strategies that have reduced emissions."
Really?
If Canada's producers are doing their part with "active strategies that have reduced emissions" then why are they complaining that the federal government's aid program (LEEFE) is too restrictive because it includes a requirement to report on climate change and what the company is doing to achieve net-zero emissions by 2050. If Savage is right, the LEEFE requirements should be a slam dunk, so what gives?
Kenney doubled down the attack on any institution critical of the oilsands by demanding that Deutsche Bank "share with us the factual basis upon which these decisions were made."
Given that Deutsche Bank is an international investment bank that holds $2.5 trillion in assets, it's highly unlikely its CEO knows who Kenney is, let alone is quaking in his boots waiting for Kenney's call. But go for it, Jason.
Promises made, not delivered
Kenney is patting himself on the back for wrapping up "a marathon session that saw 34 bills passed to make life better, diversify our economy and get Albertans back to work."
He itemized some of the bills he deemed noteworthy including Bill 32 which "restored balance" in the workplace by stripping employees of many of their workplace rights.
He failed to mention that his government's behavior undermined the democratic process or that his government's policies pitched the government against doctors, teachers, parents, seniors and other vulnerable groups, municipalities, universities, rural Albertans, urban Albertans, the LBGTQ+ community, nature lovers, environmentalists and just about everyone else.
Which leads one to wonder whether Kenney's pugilistic stance is façade to paper over his government's failure to deliver on his campaign promise of jobs, a booming economy and pipelines.
Then again, it may be just a reflection of the man.
*The Economist, July 18, 2020, p51
NOTE: Ms Soapbox will be on vacation for the next two weeks, but she promises to read your comments and respond from time to time.