When is a person old enough to know better?
I ask because Danielle Smith was 50 when she said 75% of the public who took the covid vaccine would support a tyrant like Hitler.
She also said she wasn't wearing a poppy because the politicians "ruined it for me this year" by pretending to care about the freedoms our war veterans fought for.
Smith has said many things over the years but this is one of the most egregious because:
passing public health restrictions in a pandemic is not an act of tyranny and it does not make those who chose not to get vaccinated a persecuted minority like Holocaust victims,
no one "ruined" Remembrance Day for Danielle Smith because Remembrance Day is not about Danielle Smith.
Smith apologised for her comment saying covid was a difficult and frustrating time for everyone, including her and "sometimes I let my frustrations get to me during that time."
Sorry, that's not good enough.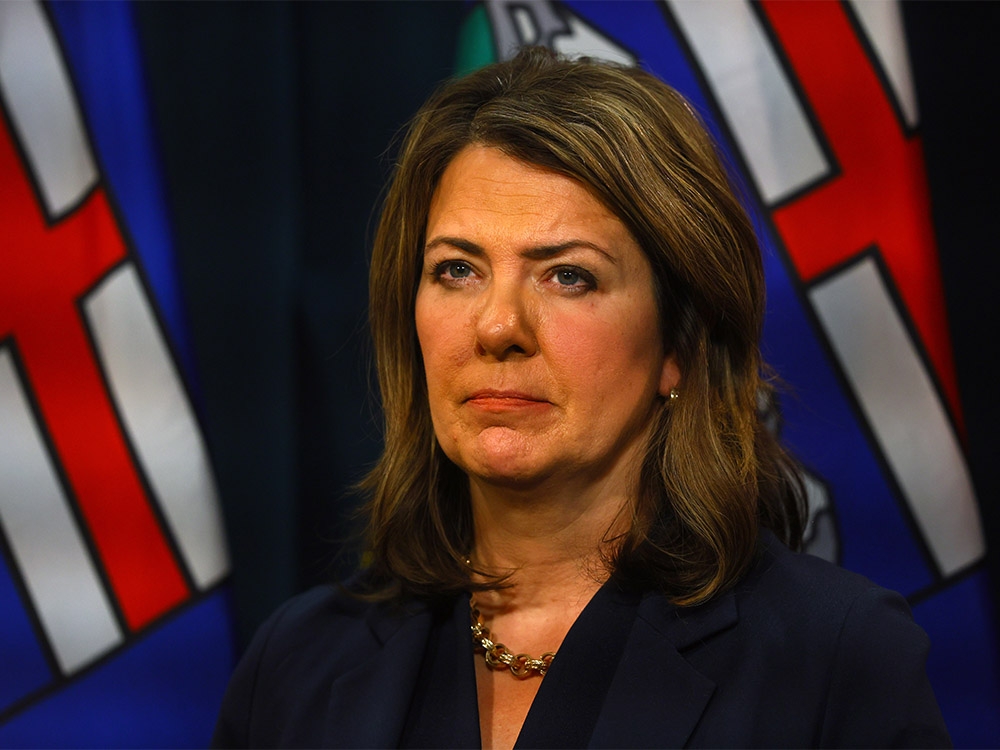 Grow up
Smith is what a young friend of mine would call a "grown ass" adult, not an immature, self-centred teenager who let's her frustrations get the better of her.
She's running for the most powerful political office in Alberta. If elected she'll be responsible for a $68.3 billion budget and will be able to wield the power of the state over 4.6 million people.
A good premier (like Rachel Notley) possesses maturity, judgment, and good common sense. Smith does not.
It's not as if Smith is a neophyte. She's been in politics or following political issues for 25 years.
Here's a quick recap of her career:
Age 25: wins seat on Calgary Board of Education (1998)
Age: 38: becomes the leader of the Wild Rose (Oct 2009)
Age 41: becomes Opposition Leader (April 2012)
Age 43: crosses the floor with eight WR MLAs to join Prentice's PC government (Dec 2014)
Age 44: loses bid for PC nomination and temporarily leaves politics. .
Age 45: joins CHQR (2016)
Age 50: quits CHQR because she wants to speak freely and is tired of trolls (Jan 2021)
Age 51: announces she's running for the leadership of the UCP (May 2022)
Age 51: becomes premier (Oct 2022)
Sadly, despite all this experience, Smith's career has been nothing but a gong show.
Ignore what I said …
Smith wants Albertans to ignore what she's said as a talk show host, columnist, or lobbyist.
Okay, let's play along. She said:
the unvaxxed are the most oppressed people she'd seen in her lifetime,
pro-Russia comments about the invasion of Ukraine,
her great-grandfather fled Ukraine after WW1 to escape communism (he didn't).
she has Cherokee ancestry (disputed by APTN)
the unmarked graves at residential schools weren't legitimate,
the Coutts blockade was a "win",
Albertans should pay out of pocket to see their family doctor,
it might be a good idea to sell public hospitals to the private sector
cancer (unless it's stage 4) is the patient's fault,
75% of those who received the covid vaccine would support Hitler.
And we should ignore these comments, why?
Because she says her knowledge and opinions with respect to some of them (it's unclear which) have "drastically evolved" since the time—a few months ago to a couple of years ago—she made them.
Instead Smith wants us to focus on what she's done.
Focus on what I've done…
Okay, let's do that. Let's focus on what Smith has done since Oct 11, 2022 when she became premier.
The Legislature was in session for 24 days between Nov 29, 2022 and Mar 23, 2023.
During that time she passed one significant bill, Bill 1, the Alberta Sovereignty Within a United Canada Act.
Bill 1 was the cornerstone of Smith's leadership campaign and she watered it down. It still purports to allow the province to ignore federal laws, but it no longer lets the government ignore decisions of the Supreme Court of Canada. She's never used it and likely never will.
Other than Bill 1, one is hard pressed to find any other meaningful legislation coming out of Smith's term in office.
There's a smattering of legislation that attempts to correct the affordability problems created by the Kenney government—a six month $100/month payment for eligible Albertans, freezing car insurance premiums, and a rebate for rebate for sky rocketing electricity prices—but not much else.
Ah, but let's look outside the Legislature. There Smith has been very busy. As premier she:
fired the AHS board for creating the healthcare crisis, in the middle of a healthcare crisis
promoted RStar, a $20 B handout to polluting energy companies (that she lobbied for prior to becoming premier) to entice them to do what they're legally obligated to do,
talked to crown prosecutors about dropping covid related charges, then said she "misspoke" and didn't talk to crown prosecutors (the CBC defamation suit fits in here somewhere),
talked to a man charged awaiting trial on criminal charges and promised to look into his issues,
appointed cronies like Preston Manning to useless panels,
completed a report on the feasibility of taking away Albertan's CPP and replacing it with a made-in-Alberta pension plan, but refuses to share it with the public prior to the election,
refuses to discuss replacing the RCMP with provincial police or creating an Alberta tax collection agency, key policies of her Free Alberta supporters, prior to the election,
discovered she can't pardon people who violated covid public health rules (alas, she doesn't have the same powers as a US governor)
passed a balanced budget (thanks to roaring oil prices) then spent most of the surplus buying our votes,
appears to have strengthened her relationship with Take Back Alberta who say they'll dump her the way they dumped Kenney if she doesn't deliver their populist agenda,
signed a 10 year healthcare funding deal with the feds (it's free money, why not)
Ta Da!
Sorry, there's not much to crow about. But even if it were, the things a politician says matter.
Which takes us back to her position that she shouldn't be judged on what she said as a talk show host, a columnist, or a lobbyist.
Why not? If she didn't mean what she said then, why should we believe she means what she says now.
Vote wisely Calgary.