Last week Calgary Economic Development presented its Report to the Community. The highlight of the event was Mayor Jyoti Gondek's conversations with Rachel Notley and Danielle Smith.
Gondek asked each leader 4 pre-set questions and 2 questions from the audience. She talked with Notley first and Smith second. It was a simple format and incredibly effect. If only political debates were run this way.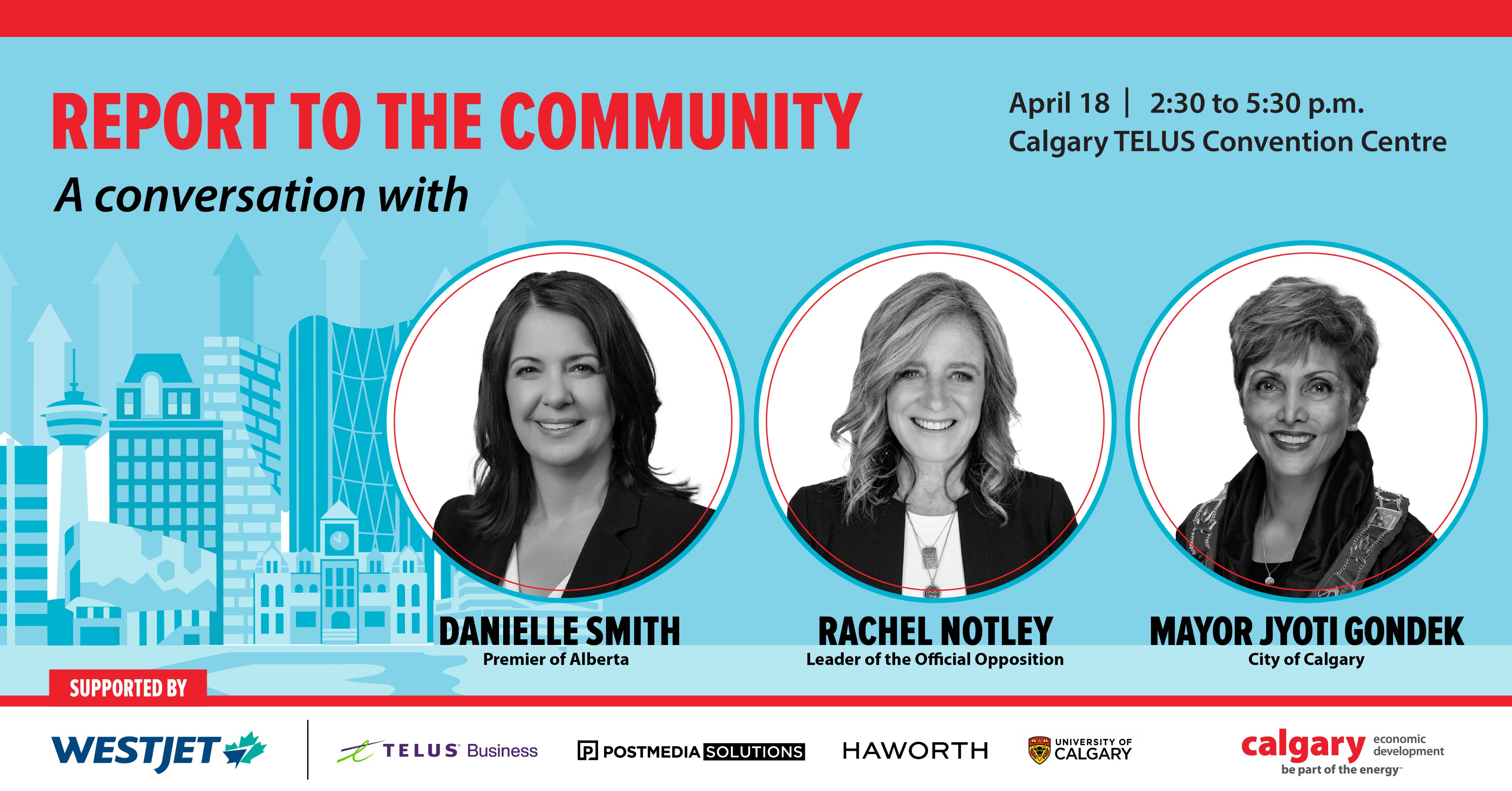 Right, here are the questions and the leaders' responses:
Q: What will the provincial government do to encourage business attraction and talent retention across all sectors in Calgary?
Notley: The NDP's Competitiveness Jobs Strategy will incent diversification through tax credits, provide a regulatory Fast Pass for "good actors" and most importantly will reinvest in postsecondary education which took more than its fair share of budget cuts.
Without reinvestment in accessible and affordable postsecondary education "the kids" will leave (This drew loud applause).
Smith: Smith talked about what the UCP [under he who cannot be named] had done in the past eg: reducing the corporate tax rate to 8%, cutting red tape and the ongoing "Alberta is calling" campaign.
She mentioned the proposed McCain and De Havilland facilities in Coaldale and Wheatland County [neither of which are in Calgary], the film tax credit and the agrifood tax credit. She's also looking into a digital media credit for video gamers.
Q: What measures will the provincial government put in place to match Calgary's $450 M investment to revitalize downtown, enhance the creative economy, build infrastructure and attract private capital?
Notley: The NDP's Downtown Revitalization Strategy includes a $200M investment to convert office space to residential use. The Affordable Housing Strategy will replace the funding the UCP cut from affordable housing and rent supplements in Calgary and elsewhere (more applause).
The NDP will invest $200M in a downtown multi-institutional postsecondary innovation hub to bring people back downtown.
It will strengthen public safety by hiring more police who will be paired with social workers and mental health specialists.
Smith: The private sector has done a great job of rejuvenating downtown Calgary with buildings that respond to the desires of the "creative class."
There's been (or will be) $3B in capital investment in Calgary, eg. finishing Deerfoot Trail and the Ring Road and building out "economic corridors" to "enhance the supply chain lines." Smith mentioned WestJet's announcement of daily direct flights to places like Rome (?) and De Havilland's facility (again) and how she'd like to commit to building the last leg of the LRT to the airport.
She said she'd like to support the Events Centre if the City and the Flames reach an agreement on the arena (applause).
She'd address making people feel safe downtown by investing in police, mental health, and recovery communities, as well as cracking down on those who do harm.
Q: How would your government collaborate with the municipal and federal government to expand programs to better serve vulnerable people?
Notley: Many of these issues are squarely the responsibility of the provincial government. She would "lean in" to undo some of the damage inflicted in the past and wants to ensure the recovery is shared by everyone.
She would collaborate with the municipal and federal governments, focussing on solving problems. She wouldn't leave any federal money on the table—"that ridiculousness must stop"(applause)—and hopefully in that process "depoliticize" the effort and focus on solutions (more applause).
Smith completely missed the point of the question which was about collaboration among levels of government to help Calgary.
Instead she dove into a description of the Red Deer Recovery Community facility, telling us that her uncle Larry succumbed to addiction and mental health issues.
She said her chief of staff Marshall had lived on the street in Vancouver for four and a half years before he was put on the path to recovery by a cop who forced him to choose between jail or recovery. Marshall developed the "recovery capital" approach and the proposed Calgary recovery facility would be similar to the Red Deer facility which is run by a private organization [EHN Canada] which had a 77-85% success rate (applause).
On the "conservative side" Smith said all the premiers are meeting with the chiefs of police to deal with public disorder and crime, noting that the "catch and release" bail provisions need to be changed.
Smith used this question as a jumping off point to say that Alberta and the Feds are in perfect alignment on healthcare and Alberta has signed a 10 year agreement for $24B which it agrees to abide by the Canada Health Act which says you'd never have to pay for a family doctor or health services.
She'd also provide additional support for youth and mental health.
Q: Municipalities have the least amount of control over their funding, how would the province provide more certainty and predictability on funding received through property taxes?
Notley: Property taxes are a matter of municipal jurisdiction but the province can provide a better line of sight on how much a municipality needs to raise in property taxes.
The NDP signed City Charters with Edmonton and Calgary. The UCP ripped them up when they came to power and developed the Local Government Fiscal Framework but there's no guarantee the LGFF will be there after the election.
Notley concluded with this: "My commitment is the things you get post-election will be the very things you are guaranteed pre-election." (Huge round of applause).
Smith: The province collects $177M more in property and education taxes from Calgary than it gives back by way of provincial transfers. Now that the government is back into budget balance it will reinvest in municipalities through grants which will increase as government revenue increases.
The Municipal Affairs minister is consulting with municipalities on how to let them keep more of the education portion of their property taxes. Stay tuned.
Audience Questions
For Notley: How will your government leverage the energy transition opportunity to grow the economy and encourage investment to realize net zero?
Oil and gas should not be used as a political football and we shouldn't pit economic growth against environmental leadership because we need both to succeed.
She said the province must (1) offer its own incentives as well as getting the Feds to do more, and (2) it must provide regulatory certainty by getting rid of the Sovereignty Act. (Huge round of applause).
She said the province should be at the table with the Feds to ensure emissions regulations are realistic and that Alberta had wasted a year and a half standing on the sidelines instead of rolling up its sleeves and getting the job done (more applause).
For Notley: How will the government address the increasing cost of living?
The government can't control inflation or interest rates but it can control the cost of utilities and needs to find a long term way to give families relief and predictability. She'd bring back the cap on insurance (applause).
She'd also invest in post secondary to get control of spiraling costs (more applause).
For Smith: How will your government address the needs of postsecondary students?
Students don't like instability so she capped year over year increases to 2%/year, reduced the interest rate on student loans to prime and extended the repayment time from 6 to 12 months.
She's looking for more options to offer accessible education by expanding community colleges and increasing spaces. as well as creating a path for colleges to get academic status.
She wants to connect young people to careers and professions at a younger age.
For Smith: The arts, culture and heritage are an important part of our community, what will you do to support them?
Smith's been lobbied to provide a tax credit for the traditional arts (opera, theatre, ballet) that's similar to a film tax credit. It's something she'll take a closer look at.
Then it was over.
The Applause-O-Meter
Anyone tracking the applause-o-meter will see that Notley got nine rounds of applause while Smith got two.
Also, the applause at the end of Smith's interview was more muted than Notley's. This could be because many of the attendees had already left. It's unclear whether they left because the event was running late or they just weren't interested in what their premier had to say.
In any case one thing is clear. Calgary is facing significant challenges. One leader has strategies to address them, the other is relying on old policies and stories about her uncle Larry.
Vote wisely Calgary.