"…this is going to be the most powerful step change in the Canadian economy since we did the NAFTA deal. It will really drive our economic productivity, our growth." – Chrystia Freeland describing the Feds $10/day child care plan.*
You'd think Jason Kenney, the premier who says the economy is the central organizing pillar of his government, would be delighted with Chrystia Freeland's announcement that the Feds will spend $30 billion over 5 years and an additional $8.3 billion/year thereafter to boost economic productivity by implementing a national child care program.
But no.
Kenney doesn't like it because…
When Rachel Notley asked Kenney to do "whatever it takes to get that $800 million a year from Ottawa for our kids" he said meh.
Okay, he didn't actually say meh, what he said was if the federal plan is "a cookie-cutter approach, nine-to-five, government-run, union-operated, largely urban care that excludes shift workers, largely excludes rural people, excludes informal forms of child care, [it] would not meet the needs of most Albertans."**
There are two problems with Kenney's glib dismissal of the Fed's program.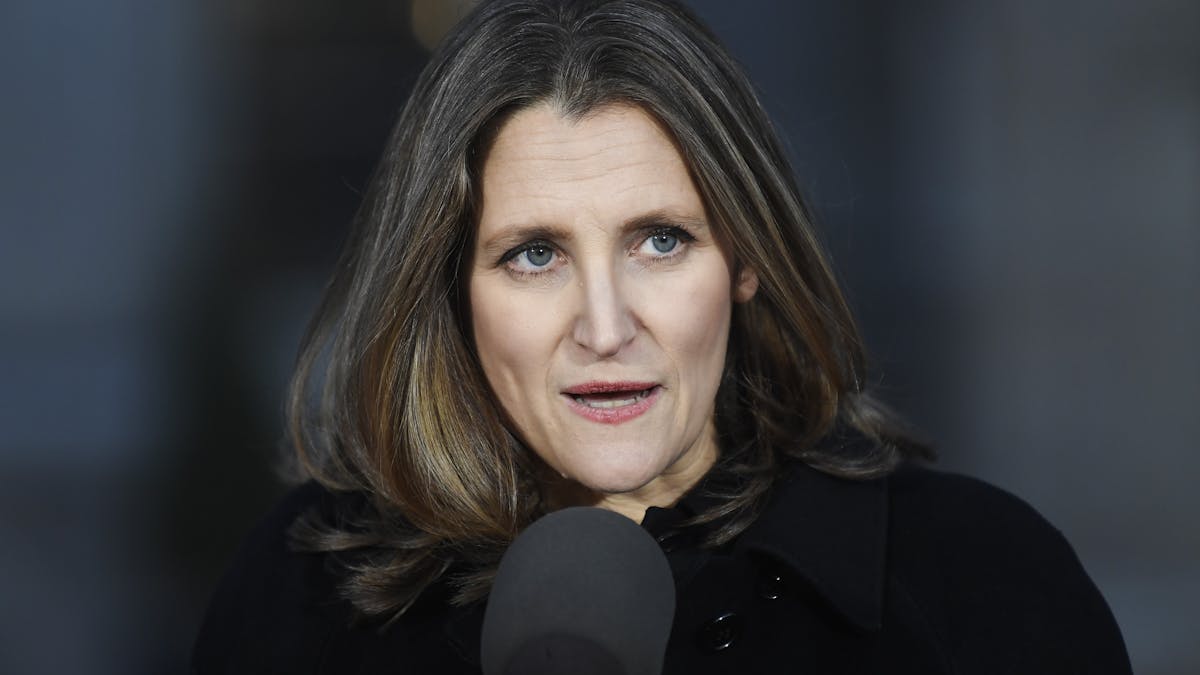 First, Kenney has no idea what's in the program so his cookie-cutter criticism is premature and possibly incorrect (it is however, a nice red flag to wave in the face of his supporters).
Second, Kenney has no idea what Albertans want. This is borne out by the fact that two days after Freeland's announcement Kenney struck yet another committee, the Supporting Alberta Working Parents Advisory Group, to look at the "latest research, data and economic analysis to consider…initiatives to ensure parents, particularly women, take part in Alberta's economic recovery."  I guess he forgot about working women when he put together his $10 billion economic recovery plan last June.
But the Fed's plan isn't "flexible"…
Kenney's cabinet dutifully echoes his concerns about the Fed's program. The minister of Child Services and the Finance minister both argue a child care program must be "flexible".
Laila Goodridge, a UCP backbencher, called upon Nate Glubish, Service Minister, to explain what is meant by the term "flexible."
Again with no knowledge about the details of the Fed's program, Glubish said Albertans need "flexibility" because 60% of Alberta's child care programs are offered by private child care operators.***
How is this relevant?
Assuming the Fed's program only applies to not-for-profit child care programs, the fact that 60% of Alberta's child care programs are privately run does not prohibit Kenney from taking advantage of the Fed's program for the 40% that are not. And yes, the owners of private child care centres may not be happy that the not-for-profit centres are offering child care at $10/day but hey, it's all about choice, right?
Goodridge pressed on, she said it was a given that any child care program rolled out in the province must accommodate all families and asked Glubish what the Kenney government was doing to accommodate families requiring overnight and 24-hour care.
Glubish accepted the premise of the question and said the government had just wrapped up an expression of interest that will add 1500 child care spaces across the province. He didn't say what they would cost or whether they were overnight or 24-hour spaces.
[As an aside: If it's a "given" that child care programs must accommodate all families, then surely it's a given that healthcare programs must accommodate all families, including those who can't afford to pay for private MRIs or cataract surgery, and education programs must accommodate all families, including those with children with special needs].
What we know
While there is a lot we don't know about the Fed's child care program we know this.
The Feds intend to negotiate with the provinces and territories to split subsidies 50-50 to reduce average child care fees to $10/day within 5 years. They're targeting a 50% reduction in fees by the end of 2022.
The Conference Board says every $1 spend on expanding early childhood education results in $6 in economic benefit.
Kenney is all about growing the economy and Freeland has a strong bias for not-for-profit child care programs because "really little people…can't speak up for themselves."
Kenney asked the Working Parents Advisory Group to provide advice on how to "leverage federal funds to suit the unique needs of Alberta parents and child care operators."
Freeland asked Canadians to "talk to people in your town, in your city, in your province…and say that you agree with me that this is the time to really do this in Canada."
What we have here folks is Freeland, the woman who successfully took on Trump over NAFTA, telling Kenney she's ready to address his argument for a made-in-Alberta child care program funded by Ottawa's dollars.
Let the economic recovery games begin!  
*All Freeland quotes from CBC The Current April 20, 2021
**Hansard, Apr 20, 2021, p 4668
***Hansard, Apr 21, 2021, p 4734