Covid-19 upended everything.
No one knows whether the world will snap back to "normal" like an elastic band or be gone forever. Economists, futurists, and historians are all over the map when it comes to what to expect in the future. Some, like conservative historian Niall Ferguson, suggest we should prepare for a world with Covid-19 because vaccines and treatments may be a long time coming.
Given all this uncertainty, we look to our leaders for, well, leadership.
Instead in Alberta we get a premier taking pot shots at the Chinese government while at the same time expecting China to send us PPE and buy our bitumen when TMX is completed.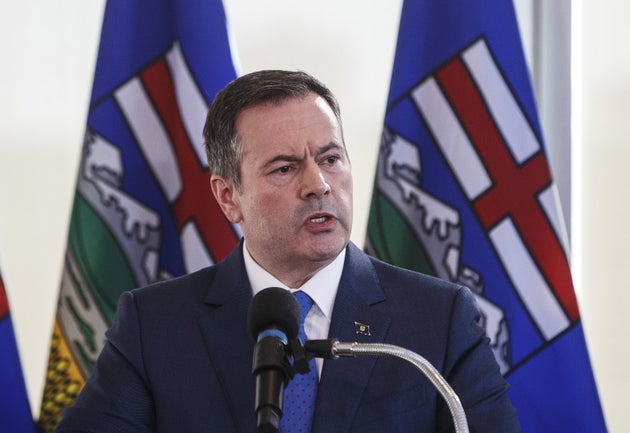 What he said
Last week Mr Kenney told the Canadian American Business Council "the Chinese government played a significant role in the devastating public health and economic damage that is being experienced by the entire world…and…there must be some kind of a reckoning, there must be some accountability."
This comes on the heels of his earlier comment that "in a pandemic, you find out who your true friends are. After COVID, Canadians and Americans will remember that the Saudis and Russians tried to exploit our pain for their gain." What's interesting about this comment is Kenney's naïve assumption that Trump's America is Alberta's friend.   
The response
Russia and Saudi Arabia took no notice of Kenney's comments, but the Chinese Consulate General slammed back with a caustic letter telling the premier not to engage in "wolf-warrior diplomacy"* unless he's prepared to be on the receiving end of a critique of his handling of covid-19 and indeed his policy decisions in general.
China also reminded Kenney that he's "based in Edmonton not Ottawa" (ooh, that hurt) and Mr Trump and the American businesses which enjoy a profitable business relationship with China may not be pleased with his comments.
This entire exchange is lunacy.
Cooler heads prevail
To be clear, no one is suggesting China is blameless in the Covid outbreak.
We strongly agree with the Prime Minister who said "there are many questions for countries around the origins and behavior in early days around the Covid-19 situation, particularly questions for China".
Mr Trudeau who is based in Ottawa did not receive a snarky reply from China, and as far as we can see he has the concern about China's role in the spread of the virus covered, so why is Alberta's premier waging "wolf-warrior diplomacy" with China in the middle of a pandemic?
He's come undone
Kenney, like many populist leaders, has a problem. He rode into office on a wave of fear and anger by manufacturing a crisis, make that crises, plural, and promising to fix them.
He was going to return Alberta to prosperity by saving the energy sector. He created a $30 million/year war room to stamp out misinformation about the energy industry (it failed miserably) and set up a $2.5 million public inquiry to flush out foreign operatives who mounted anti-Alberta energy campaigns (we have yet to see the Commissioner's report, let alone a horde of foreign operatives heading for the hills). Meanwhile global oil prices plummeted and the industry tanked.
He was going to balance Alberta's books by imposing draconian cuts on public services. Albertans grumbled and finally lost it when cuts to physician compensation resulted in doctors reducing services and leaving the province. He backtracked, a bit.
He was going to redress Ottawa's unfair treatment of the People of Destiny (or is it the Buffalo People) by creating the Fair Deal panel to force Trudeau to give Alberta a better deal with veiled threats of separation, only to see his agenda highjacked by the Wexiteers who launched a serious separatist movement.
He was going to increase Albertans' freedoms but spooked everyone, including his staunchest supporters, by using the covid crisis to pass Bill 10 which gives his Cabinet the power to suspend laws and create new ones indefinitely. This one is going to court.
Then to add insult to injury, along comes covid-19 which drove Trudeau's approval ratings up and Kenney's approval ratings down. Funny how a little thing like generous social assistance from the federal government, and meh social assistance from the Alberta government will swing public sentiment.
Kenney put himself squarely between a rock and a hard place.
The fake crises he created fizzled and the real crises created by the Saudi/Russia oil price war and covid-19 will not yield to his I-can-bully-my-way-through-this rhetoric.
So he upped the ante, he's demonizing China, Russia and Saudi Arabia to demonstrate he's still in charge.
A reckoning
Covid-19 exposed shortcomings in our global institutions like the WHO, which successfully controlled SARS and Ebola but fell short with the coronavirus, and the EU which responded in a haphazard fashion.
It exposed flaws in our own federal and provincial governments' pandemic protocols and the fragility of global supply chains, demonstrating a need for greater self-reliance and larger inventories for critical products.
But there's one thing covid-19 did not do.
It did not give Jason Kenney the authority to position himself as a wolf-warrior parroting Donald Trump, when he's nothing more than the premier of a small province in a "middle power" country that's trying not to get trampled in the new cold war emerging between China and the US.
If Jason Kenney doesn't understand this simple fact, then yes, there will be a reckoning; but it's not going to be with China, it's going to be with Mr Kenney.
*Wolf-warrior diplomacy refers to China's increasingly aggressive and hostile engagement with the West.