Last week Mr Kenney threw away (yet again) his belief in the sanctity of the free market by announcing his government (ie. us) would invest $1.5 billion in TC Energy (formerly TCPL) to complete Keystone XL and provide a $6 billion loan guarantee.
Saved by the Alberta government
Mr Kenney speech was peppered with comments about Saudi "predatory dumping" and "lawfare" waged by foreign funded interests, but his most disturbing comment was that if Alberta did not intervene, KXL "would not be built" or would not be built at "any time in the foreseeable because "there are no prospective private sector bidders for the KXL project at this time."
This raises two questions (1) was TC Energy looking for "private sector bidders" for KXL and (2) without such "private sector bidders" was KXL doomed to fail.
The answer these questions lies in TC Energy's filings under Canadian and American securities laws. There TC Energy takes a sanguine position, simply saying KXL "continues to advance" and TC Energy will continue to manage various legal and regulatory matters before making its final decision to start construction.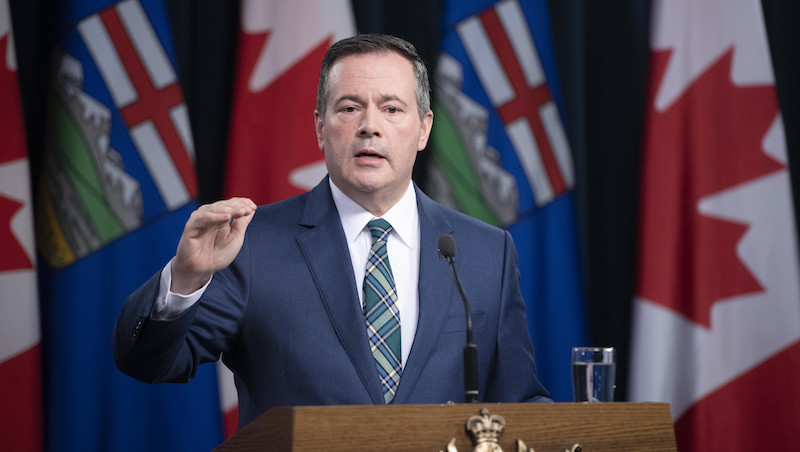 Unlike Teck who made it crystal clear it would not proceed with Frontier unless it had a partner, TC Energy has never said it would not proceed with KXL unless it found a "prospective private sector bidder" which I think is Jason Kenney's convoluted way of saying, a partner.  
So unless Mr Kenney knows something TC Energy's executives, Board of Directors, bankers, shareholders and investors do not know, one has to wonder why he said KXL was kaput without the intervention of the Alberta government.
But let's assume for the sake of argument that Mr Kenney was correct when he said KXL could not proceed without billions of dollars from the Alberta taxpayer; is the risk of this investment worth the benefits?
Risks?
Mr Kenney said while the risks are "obvious" this billion-dollar investment was a "solid bet" because it will deliver $30 billion in royalties and taxes over the next 20 years. However, he refused to provide the forecasts supporting his prediction and given how badly he miscalculated oil prices in Budget 2020 we will take Mr Kenney's promise of a $30 billion upside with a grain of salt.
Mr Kenney told the House that Alberta taxpayers are protected because our $1.5 billion equity investment is "at the top of the capital stack" and this is a "preferred investment where we'll sell the shares at a profit."
Umm, no, this doesn't allay our concerns.
Firstly, while TC Energy has agreed to reacquire the Alberta government's "preferred investment" after the project is completed and placed into service, TC Energy says there's no agreement on the "sell back" price so how can Mr Kenney promise he'll sell at a profit?  
Secondly, can someone nudge Mr Kenney's Justice minister, a bankruptcy lawyer, and ask him to explain to Mr Kenney that equity investments whether they're preferred or common, rank below debt, and creditors take priority over shareholders (that would be us).
Bottom line: not only are Alberta taxpayers bearing the risk of losing their $1.5 billion investment, they're on the hook for $6 billion in loan guarantees. And they're taking this risk on the strength of Mr Kenney's fuzzy assurance they'll reap $30 billion down the road.
Benefits?
Mr Kenney listed other benefits of investing billions of taxpayer dollars in TC Energy, including:
Kick-starting the oilsands. He did not explain how KXL will reverse the double whammy of rock bottom oil prices as a result of the Saudi-Russia price war and tepid demand due to the Covid crisis. Perhaps because KXL will have zero impact on either.
Creating 1,400 direct jobs in Alberta, 1,200 in Saskatchewan and 300 elsewhere in Canada and 5,400 indirect jobs in Alberta and 12,000 indirect jobs in Canada…oh wait, that's not the whole story…KXL will also create 10,400 direct jobs and 42,000 indirect jobs in the United States. Listen, I have no problem with Americans going to work, but I question why Mr Kenney was satisfied with Albertans bearing all the risk while Americans reap eight times the benefit.  
Getting to work now. Mr Kenney and his energy minister insist Albertans are working on KXL right now (with "now" being Apr 1 or 2 depending on who's speaking), however TC Energy's CEO said in light of the Covid crisis "construction will advance only after every consideration for the health and safety of our people, their families and of those in the surrounding communities has been taken into account." On Apr 3, TC Energy posted a video describing its Covid protocols which at this point appear to apply only to its construction site in Montana. We're still waiting for a Covid protocol video relating to Alberta.  
?????
At the same time Mr Kenney told Albertans our financial position was so dire we could no longer afford to pay our healthcare workers, teachers and other public servants properly, he was negotiating a deal which required him to borrow billions of dollars to support TC Energy's KXL pipeline.
TC Energy posted record financial results in 2019. It says dividends will grow by 8% to 10% through 2021 and 5% to 7% thereafter. It prides itself on its ability to "access sizable amounts of competitively-priced capital" while preserving its financial flexibility to fund its capital program "in all market conditions."
TC Energy's securities filings do not paint a picture of a company under financial stress.
So why did Mr Kenney decide it was necessary for Alberta taxpayers to make a $1.5 billion equity investment in TC Energy and issue $6 billion in loan guarantees?
If, on the other hand, TC Energy is legitimately concerned that legal and regulatory challenges will sink the KXL pipeline why did Mr Kenney (who has no jurisdiction whatsoever over American federal and state legal/regulatory matters) make a $1.5 billion equity investment that is not repayable until after the completion of a pipeline that may never get built and further, agree to backstop $6 billion in loans.
Either way it looks like Mr Kenney made a questionable decision.
All we know for certain is Albertans will be living with the consequences of his decision for a very long time.